HB1529 – Hawaii Student Free Expression Act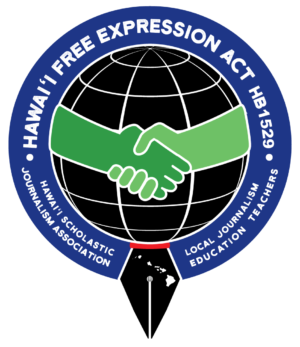 The bill did not get a hearing. We will try again next year to protect the rights and clarify the responsibilities of all those involved with scholastic journalism in Hawaii
HSJA Goals
- Provide opportunities for journalism educators to share ideas.
- Promote the benefits of scholastic journalism
- Maximize the experience for students at the spring Hawaii Publishers High School Journalism Awards Banquet and the fall Journalism Day at UH
- Open discussion to review state policies regarding scholastic press freedom in Hawaii
Next Meeting
Sat. Apr. 27, 10:00 a.m. at McKinley High School. We will also host a Zoom room for this event.
Membership
Membership is free and open to anyone in Hawaii interested in scholastic journalism.
Email [email protected] to be put on our mailing list to receive information about meetings.
Maile Morrell, Ewa Naupaka Editor
When she was still in high school, Chavonnie Ramos struggled with writing relatable and enticing stories for her school's newspaper because administrators kept a tight grasp on the type of content students...