2023 HiJOY results are in
Each year Hawaii recognizes a student journalist of the year. Congratulations to the 2023 HiJOY winner, Skye Bulman of Iolani School. Bulman's advisers are Leigh Morrison and Dr. Jade Higa. Second place goes to An Vo of McKinley High School. Vo's adviser is Cynthia Reves.
To enter, the student must be a senior who has been involved in student journalism for at least one year. The journalist could work for their school newspaper, yearbook, broadcast media, etc. They must make a digital portfolio providing evidence and reflection on Reporting/Writing, Editing/Leadership/Teamwork, and Law/Ethics/News Literacy, plus evidence from one choice category: Design, Commitment to Diversity, Broadcast Journalism, Photojournalism, Web/Social Media, or Marketing/Audience Engagement.
The Hawaii Chapter of the Asian American Journalists Association provided monetary prizes. First place earned $250 and second place earned $150. AAJA is an organization that supports Asian American and Pacific Islander representation in the newsroom and strives for equitable and accurate coverage of Asian Americans and Pacific Islanders and AAPI issues.
Bulman started her journalism journey as an eighth grader. In her senior year, she is Print Editor-in-Chief for Imua Iolani.  She was voted "Most Valuable Staffer" in School Year 2021-22 by her fellow Imua Iolani staffers. In her personal narrative, Bulman said, "While recognition is nice, for me journalism is all about activism— shedding light on important topics that otherwise wouldn't be discussed. As an avid feminist and LGBTQIA+ activist, using my platform to share the stories of those whose voices have been suppressed is one of the most rewarding and meaningful parts of my journalism experience. I love to write (and encourage my staff to write) articles that push the envelope and force our readers to consider complex issues in a new light."
Here are a few comments the judges made on Bulman's HiJOY portfolio:
"Your portfolio is exemplary and a true representation of the scope of a state journalist of the year. You have shared ample examples to demonstrate that you are a master of the craft, including all areas of publication, from marketing to design. As a fifth-year journalist, you are far beyond the basics of reporting and writing, and that is demonstrated in your body of work."
"This student shows a serious commitment to journalism, which is great to see!"
"Shows a great commitment and consistency, across all categories, to the field of journalism. Has highly advanced skills in this field and shows tremendous potential."
To compete in the national Journalism Education Association's Journalist of the Year contest, Bulman revised her portfolio to this website.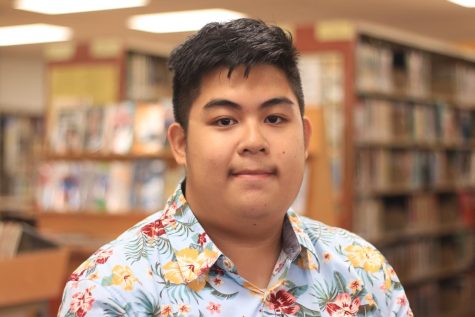 Vo worked for McKinley High School's The Pinion his freshman year. Vo explained in his personal narrative that he enrolled in Newswriting because "if it has 'writing' in it, then it must mean that there's no talking involved and it is an Eden of introverts like me!" He quickly wondered if he had made a mistake.
In the end, though, he said, "When I grew more comfortable amongst my fellow staff reporters and the social requirements of journalism, I realized … I ultimately made the right choice to nudge me on my journey to become a better writer and, most importantly, break out of my comfort zone." His fellow staffers voted him Most Valuable Staffer. His adviser said, "He really showed his stuff, though, during the fourth quarter when the staff had to produce The Pinion virtually. It turns out Vo is quite talented with InDesign."
Here are a few comments the judges made on Vo's portfolio.
"I loved reading this student's personal narrative and felt like I really knew him."
"Your writing is enjoyable to read, and it looks like you are able to find the story in each interview that you do."
"I am so impressed by not only your writing skills but also your planning and organization, which is clearly evident in the layout and schema of your portfolio."
Honorable Mention goes to Jade Bluestone of McKinley High School and Kimberly Murphy and Alyssa Francesca Salcedo of Waipahu High School's Cane Tassel. Katrina Karl is Waipahu's adviser. 
If you are a high school journalist or adviser, you can learn more about HiJOY here.