Juniors can begin assembling JOY portfolio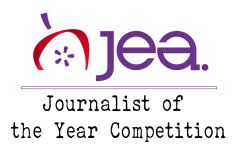 If you are a JEA member, encourage your juniors to start preparing their portfolio for the 2020 JEA's Journalist of the Year award. Hawaii's deadline will be February 15, 2020.
Applicant's adviser must be a current JEA member.
Applicant must have participated in student media for a minimum of two years.
Applicant must be a senior in high school.
Check JEA's website for more information or email Hawaii's state director, Cindy Reves, at [email protected]